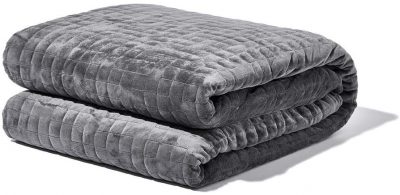 I absolutely love my weighted blanket and highly recommend it if you have difficulty sleeping, restless legs, or anxiety (like me). Today only, get the Gravity Blanket: The Weighted Blanket For Sleep, Stress and Anxiety, Space Grey 48″ x 72″ Size, 20-Pound only $160! You'll be saving 20%!
Suffering from poor sleep? Gravity is a premium-grade weighted blanket that uses light weight on the body to help improve sleep quality.

WEIGHTS: Available in 15, 20, and 25lb options; we recommend selecting the one that's about 10% of your body weight. Do not simply choose the heaviest option! You want one that's closet to 10% of your own body weight.

SIZE: Gravity is sized 72" x 48", providing a grounding experience for ONE USER at a time. We designed it in this throw blanket size to allow the weight to be evenly distributed over the user and because each user requires a weight specific to their body weight.

CONSTRUCTION: Exterior duvet cover is made of super soft micro-fleece. Interior weighted blanket is made of cotton and fine-grade glass beads, and is held in place inside the duvet cover by both ties and elastic-button straps. Gridded stitching on the weighted inner ensures the glass beads remain uniformly distributed during use.

CARE: Duvet cover is machine washable; internal blanket is hand-wash only.
This post contains affiliate links.