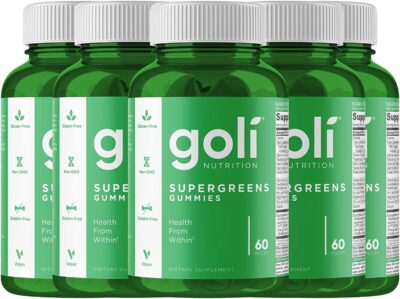 Introducing Goli Supergreen Gummies, made with essential vitamines, nutrients, & probiotics. Snag the GOLI SUPERGREENS Vitamin Gummy – 300 Count – with Essential Vitamins and Minerals. Health from Within. (Plant-Based, Vegan, Gluten-Free & Gelatin Free) for only $71.20.
Plant-based, Vegan, Gluten-free & Gelatin-free: Each bottle of Goli Supergreens Gummies contains 60 delicious vegan, gluten-free & gelatin-free gummies.

Health from within made simple with Goli Supergreens: Introducing an easy and delicious way to incorporate vitamins and minerals into your daily routine. Our unique blend contains essential nutrients that help support overall health and wellbeing.*

Essential nutrients, great taste: Goli Supergreens Gummies contain a wide spectrum of ingredients including vitamins, minerals and artichoke leaf extract, which help support digestive health, healthy liver function, healthy healthy immune function, healthy nervous system and so much more!*

Made in USA with locally and globally sourced ingredients. Goli Supergreens Gummies are made in allergen-free, cGMP certified facilities in the United States from premium local and globally sourced ingredients to ensure that our products are reputable and of the highest quality standards.

Vitamin Angels: Goli is a proud supporter of Vitamin Angels.
This post contains affiliate links.