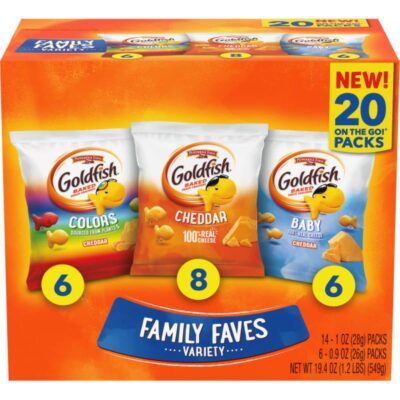 Our Goldfish variety packs with Colors, Cheddar and Baby varieties are full of delicious snack crackers with a crunch that everyone can smile about. They're always baked with real cheese, and made with no artificial flavors or preservatives. Whether you are looking for an on-the-go snack or just craving something delicious to munch on while streaming your favorite show, they're a snack that everyone will love. They're also the perfect companion to add a little cheesy, crunchy excitement to your meals. For lunch, add them to soups, sprinkle them on salads or just simply munch on them as a side with your sandwich. From on-the-go snack time to meal time, there are so many ways to enjoy the goodness of Goldfish. And Goldfish variety snack packs are only the beginning. If you are looking for a little more flavor in your life, give our Flavor Blasted Xtra Cheddar, Cheddar Jack'd or Cheesy Pizza a try. Go for the handful! Click here for the Goldfish Family Faves Crackers, Cheddar, Colors and Baby Crackers Snack Packs, 20-Count Variety Pack, only $7.68 for a limited time!
VARIETY PACK INCLUDES 8 single-serving packs of Goldfish Cheddar, 6 packs of Goldfish Colors and 6 packs of Goldfish Baby crackers.

A SNACK EVERYONE CAN FEEL GOOD ABOUT: This irresistible little snack is always made with no artificial flavors or preservatives.

ALWAYS BAKED, NEVER FRIED: Keep munchable, crunchable Goldfish crackers around for an anytime snack that everyone can feel good about.

CONVENIENT PACK SIZE: Single-serving packs are perfectly portioned for a lunch side or a munchable snack on the go.

PERFECT FOR SHARING OR FOR ENJOYING SOLO: The great taste of Goldfish crackers is perfect for hanging out with friends, or taking a snack break any time the mood hits.
Remember, Amazon prices can change at any time.
This post contains affiliate links.