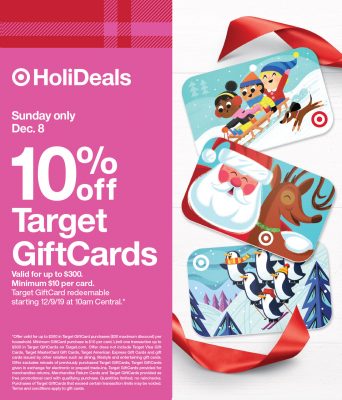 Tomorrow only, get 10% off Target gift card purchases of up to $300 in stores and online. Nobody ever turned up their nose at a Target gift card, so here's a rare chance to save on the perfect gift! (And yes, you can buy for yourself.) The fine print:
Offer valid for up to $300 in Target GiftCard purchases ($30 maximum discount) per household. Minimum Target GiftCard purchase is $10 per card. Limit one transaction up to $300 in Target GiftCards on Target.com.
Discount does not apply to Target Visa, MasterCard, or American Express gift cards, gift cards issued by other retailers such as dining, lifestyle and entertaining gift cards, reloads of previously purchased Target GiftCards, Target GiftCards given in exchange for electronic or prepaid trade-ins, Target GiftCards provided for merchandise returns and Target GiftCards provided as free promotional card with qualifying purchase. Quantities are limited, no rainchecks.
Purchases of Target GiftCards that exceed certain transaction limits may be voided.
Terms and conditions apply to gift cards.
This post contains affiliate links.