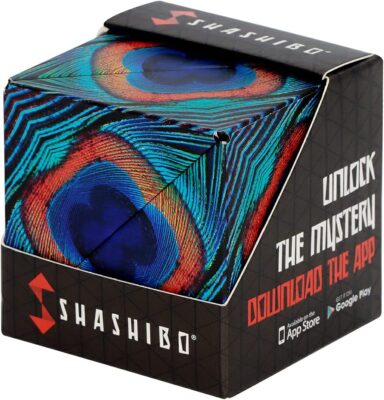 Save on Games & puzzles from Bananagrams, Shashibo, Armogear and more!
Fun in Motion Toys is the creator of Spinballs, Mozi, Glozi, Shashibo, Wandini, and Karmagami. Our toys make you move and groove! If you're like us, you don't like to sit still. We're constantly looking for something to fidget with, or a new activity to learn, which is why we create our range of fun in motion products. We believe in creating mesmerizing toys that provite movement and activities that stimulate the mind and body. Get this SHASHIBO Shape Shifting Box – Award-Winning, Patented Fidget Cube w/ 36 Rare Earth Magnets – Extraordinary 3D Magic Cube – Shashibo Cube Magnet Fidget Toy Transforms Into Over 70 Shapes (Wings) for $20!
Unlike other puzzle box toys that turn out disappointing & dull, the patented, award-winning Shashibo fidget box features 36 rare earth magnets for an innovative design that transforms into over 70 shapes. Fits comfortably in the hand for hours of mind-challenging fun, stimulate the senses with unlimited creative possibility! Can you master the Shape-Shifting Box?

Nothing compares to the quality & unique design of the Shashibo, durably constructed of premium injection-mold plastic, 36 rare earth magnets, and a tear-proof, matte or high-gloss surface. Each magnetic puzzle features 4 unique, artistic patterns of vibrant, mesmerizing artwork, for an ever-changing array of beauty at your fingertips.

Collect & Connect – With the strong internal magnet system of our fidget puzzle boxes, you can connect multiple magnetic cubes to build even larger structures and sculptures – for the ultimate satisfying magnetic fidget toy and brain teaser. Collect all 12 designs to create vibrantly patterned, spellbinding 3D art!

A Transformational Gift – Our fidget magnet cubes make great sensory stimulation puzzle gifts and STEAM & STEM toy gifts for all ages. With every satisfying click, our shape shifting puzzle box 's calming, therapeutic effect soothes away stress & nerves. Try our Gift Box Set of 4: the ultimate fidget toy set for loved ones to build killer extended structures!

At Fun in Motion Toys, we create toys that stimulate the mind, body & imagination. Designed in the U.S. and Germany, our award-winning magnet cube is made to challenge the senses and build skill & coordination and bring people together for hours of fun. Your happiness is our #1 goal! If you need any help with your Shashibo transforming cube, our Happiness Engineers are standing by. Click our Storefront to see our entire range of toys.
This post contains affiliate links.