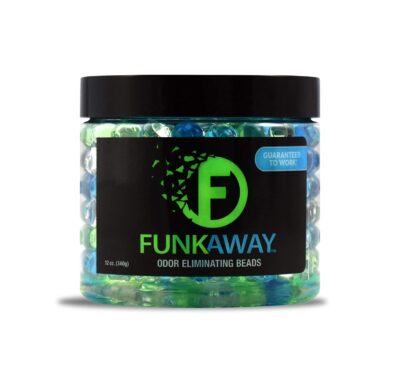 FunkAway 12 oz Odor Eliminating Beads are supercharged with our exclusive OM Complex that doesn't just cover up odors – it eliminates them! Place a jar in your locker, closet, basement, bathroom or anywhere funky odors are a problem and LIVE FUNK FREE for up to 90 days! Click here for the FunkAway Odor Eliminating Beads, 12 oz | Supercharged Odor Absorbing Beads for the House, Car, or Gym | Eliminate Smoke, Pet, and Bathroom Odors | Long Lasting, only $5.88!
ELIMINATE ODORS: Stop masking odors with flowery sprays FunkAway's beads don't just cover up odors, they eliminate them These odor absorbing beads soak up the smells and remove them from the air

POWERFUL FORMULA: Supercharged with FunkAway exclusive OM Complex – designed to eliminate the toughest odors to keep any room smelling fresh.

WORKS ON ALL SMELLS: FunkAway Beads work on pet odors, smoke smells, bathroom stink, car scents, and all other funk

LONG LASTING: Works hard to keep your space smelling clean for up to 90 days

SET AND FORGET: Remove the insert from the beads and place wherever odors are a problem
Remember, Amazon prices can change at any time.
This post contains affiliate links.