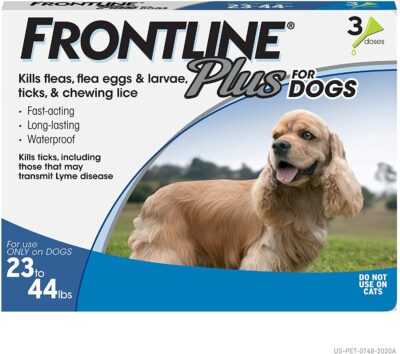 Click here to save on Frontline Plus Flea and Tick! FRONTLINE Plus for Dogs has been trusted by veterinarians for flea and tick control for dogs for nearly 20 years. Made with 2 tough killing ingredients, fipronil and (S)-methoprene – one to kill adult fleas and ticks and the second to kill flea eggs and larvae – this fast-acting, long-lasting protection provides flea and tick control for dogs and puppies 8 weeks and older, 23-44 lbs. Its long-lasting formula is stored in the oil glands of the pet's skin to give non-stop flea and tick protection for a full 30 days. Get the FRONTLINE Plus Flea and Tick Treatment for Dogs (Medium Dog, 23-44 Pounds), only $26.51.
The name in flea & tick protection trusted by pet owners for over 20 years, this waterproof, fast-acting flea and tick treatment kills fleas, flea eggs, lice, and ticks, including those that may transmit Lyme disease.

Designed for use only with dogs and puppies, this long-lasting treatment is made for dogs eight weeks or older.

Made with two active ingredients, fipronil and (S)-methoprene, this treatment stops infestations and prevents new ones.

Applied on a single point on your pet, the treatment rapidly covers your dog's entire body and deposits in the sebaceous glands. These glands as a reservoir, continuously replenishing the treatment onto your pet, working even if your dog gets wet.

One dose of FRONTLINE Plus lasts 30 days.
This post contains affiliate links.