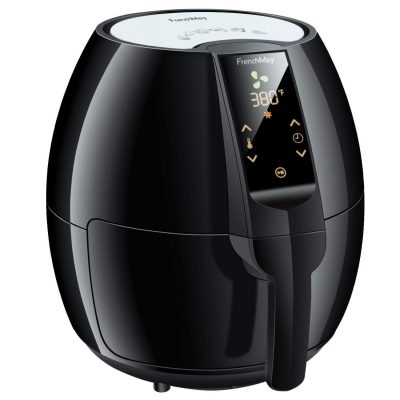 The FrenchMay Digital Air fryer is an innovative appliance that lets you cook a variety of meals quickly, easily and deliciously, You can fry, grill, bake or roast anything from french fries and onion rings to steaks, cakes and vegetables etc. Get the FrenchMay Touch Control Air Fryer, 3.7Qt today for only $59.95. That's a savings of $20!
[Multi-Functional and Versatile Air Fryer] Great for traditional French fries and onion rings, Cooks steak, roasted potatoes, vegetables and more. No oil smell, no splatter, no mess. This air fryer is perfect for frying, baking, grilling and roasting with little to no oil.

[Industry Leading Dynamic AirFlow Technology]FrenchMay Air Fryer features Dynamic AirFlow Technology, the leading Air frying technology rapidly circulates hot air and provides uniform cooking. Rapid hot air circulation cooking system combine the fast and precise of air flow to make your French Fries crispy and looks great.

[Intuitive TouchScreen Control with 60 Minutes Timer]Digital temperature control up to 400¡ãF, 60-minute timer with auto shut-off. 7 presets references, fries/chips, meat, shrimp, cake, chicken, steak, and fish. Versatile for most of your favorite dishes. Big3.7 Qt. capacity, feeds up to a family of 4.

[Elegant Design, Dishwasher Safe and Easy to Clean] Easy-to-clean food Fry basket and basket holder Base, built-inCool-touch housing and handle. Removable parts are dishwasher safe and easy to clean. The Inner Parts are FDA Certificated Safe and Free of PFOAs.

[100% Satisfaction Guarantee] At FrenchMay, your satisfaction is our first priority, that's why we offer you 100% satisfaction guarantee, if you are not satisfied with your purchase within 60days, we can return it with 100% money back. No hassles, no question asked. If your air fryer fail within 1 year time, we will send you brand new replacement. 100% Risk Free.
This post contains affiliate links.