How many prescriptions does your family fill every month? Ever been shocked at the price? (A dermatologist recently gave us a script for poison oak that rang up for $1,314. No joke. We did not fill it.) FamilyWize is a community service partnership that has been helping people reduce prescription costs for more than 10 years. Since 2005, the site has helped 8.8 million people save more than $925,000,000 on prescriptions. Now, to celebrate turning 10, FamilyWize has created a free ebook on controlling prescription costs.
You can read it free online or download a copy. Topics in the ebook include…
Questions to ask your pharmacist
The difference between brand and generic medicines
Controlling prescription medicine costs
And lots more!
Dr. Linda Bernstein, a pharmacist with over 35 years of experience, wrote the free ebook. The ebook also comes with a free FamilyWize Prescription Savings Card, which is free to use, whether you're insured and uninsured.
FamilyWize estimates their card saves an average of 42% on prescriptions.
Or even as high as 75% in some cases. Since it's free to join the program and use the card, you may be curious to use it the next time you fill your family's prescriptions. You may use the card whether or not you have medical insurance.
Still not sure? One cool tool that may change your mind is their drug price look up tool. Enter in the drug name and your zip code, and the tool churns up a list of prices for the generic and brand version at pharmacies near you. You may change the dosage, dose form (liquid or pill, for ex.), quantity of pills, and distance from your zip code. See the screenshot below.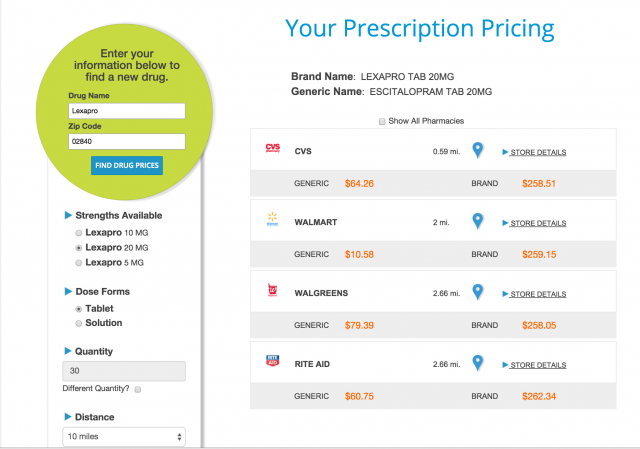 So how does FamilyWize get lower prescription prices?
Their site explains it best.
FamilyWize essentially acts like a huge consumer group buying service for the uninsured and underinsured. The discounts and savings on medications are provided voluntarily by the more than 61,000 participating pharmacies that have agreed to provide prices similar to what they give large insurance companies and employers. The participating pharmacies get more business, in three ways:
FamilyWize directs people with FamilyWize cards to their stores;

People are able to fill more of their prescriptions because of the savings;

People often buy other things when they go into the store to get their prescriptions.
Get more info on the card here. If you'd like to know more about saving on prescription costs in general, make sure to check out the free ebook.
Do you have the FamilyWize card? What's been your experience?