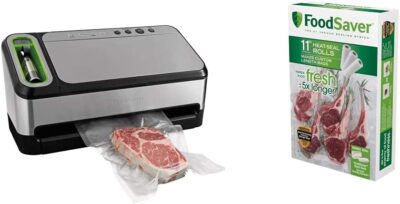 Combining both a handheld and standard vacuum sealer, this FoodSaver 4800 Series 2-in-1 Vacuum Sealing System with Starter Kit is vacuum sealing versatility at its best. Automatic bag detection and vacuum sealing means two quick and easy steps to seal and save. When sealing zipper bags, containers, and canisters, the convenient handheld retractable sealer eliminates the need for additional attachments. One unit does it all. Score this FoodSaver V4840 2-in-1 Vacuum Sealer Machine | Silver & 11″ x 16′ Vacuum Seal Roll | Make Custom-Sized BPA-Free Vacuum Sealer Bags | 3-Pack (Frustration-Free Packaging for only $227.98. That's a savings for $45!
Product 1: Save money and seal freshness in: Meat preserved with the Foodsaver system in the freezer can last up to 3 years and still taste fresh, flavorful, and freezer burn free

Product 1: Automatic bag detection: Automatic bag detection makes vacuum sealing easier than ever: Simply put the bag in the vacuum chamber and the machine does the rest to ensure your food stays fresh and flavorful

Product 1: Simple to use: Built in roll storage and cutter lets you easily make custom sized bags to fit whatever you seal, while led light indicators easily guide you through the vacuum sealing process

Product 1: Very consistent sealing: Guaranteed to reach an optimal vacuum level and airtight seal; The v4840 is durable, high quality, and backed by a 5 year limited warranty

Product 2: Freshness that lasts for weeks, not days: BPA-free multi layer design is constructed of durable yet pliable material that creates an airtight barrier around foods, extending freshness and locking in flavors

Product 2: Customize length to fit any food you store: Having the option to cut the roll to whatever length you need means no more wasted material or precarious "Doesn't quite fit" scenarios

Product 2: Ideal for use with foodsaver vacuum sealing systems: The sealing strip in foodsaver vacuum sealers heats to a precise temperature that works specifically with foodsaver bag material, ensuring you get a secure airtight seal

Product 2: 1 bag, multiple uses: Use it when buying in bulk or on sale and storing the extra for later; Portioning out meals throughout the week; Camping and picnics; Hunting and fishing; Pantry storage; Storing leftovers; Sous vide cooking; and more
Remember, Amazon prices can change at any time.
This post contains affiliate links.