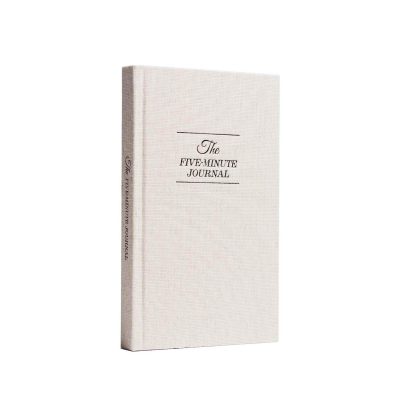 THE SIMPLEST WAY TO START YOUR DAY HAPPY – Using the science of positive psychology to improve happiness, The Five Minute Journal focuses your attention on the good in your life. Improve your mental well-being and feel better every day.
COMPLAIN LESS, APPRECIATE MORE – The Five Minute Journal helps you cultivate gratitude. It changes how you feel, alters the actions you take, and therefore the results you will create…negativity be gone!
FINALLY KEEP A JOURNAL – With a simple structured format that takes just 5 minutes, The Five Minute Journal is simple, quick, and effective. Whatever your excuse for not keeping a journal is, this journal will eliminate them.
Today only, get the Five Minute Journal for only $16.
THE ORIGINAL FIVE MINUTE JOURNAL: 500,000 + people use our products to boost happiness & increase productivity each day – don't settle for less, our products have been personally tested and research supported.

THE DAILY LAYOUT: A structured format to boost your happiness in 5 minutes a day including: gratitude, prioritizing your day, 3 amazing things, inspiring quotes, daily affirmation, end of day reflection.

THE POWER OF KEEPING A GRATITUDE JOURNAL: The Five Minute Journal is created with leading psychology research. Feel higher levels of positive emotion, more joy, optimism & happiness; feel less lonely and isolated.

HOW IT WORKS: The Five Minute Journal is broken up into two sections: a morning routine section and a night routine section.

GREAT VALUE: The Five Minute Journal lasts for 6 months of daily journaling. This is the simplest thing you can do to start your day happy, the journal you will actually stick with.
This post contains affiliate links.