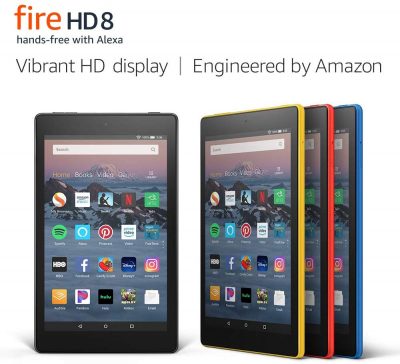 Choose from millions of Kindle eBook and magazine titles that you won't be able to find anywhere else. Over 1 million titles are priced at $2.99 or less. Or read as much as you want with a Kindle Unlimited subscription for just $9.99 a month. Connect with the largest online community of book lovers on Goodreads. Read comfortably at night with Blue Shade, an exclusive Fire OS feature that automatically adjusts and optimizes the backlight for a more comfortable nighttime reading experience. Click here to score the Fire HD 8 Tablet (8″ HD Display, 16 GB) – Black for only $49.99.
8″ HD display; 16 or 32 GB of internal storage (up to 400 GB with microSD)

1.3 GHz quad-core processor

Up to 10 hours of battery life

Alexa hands-free enabled

1.5 GB of RAM

2 MP front-facing camera + 2 MP rear-facing HD camera

Dual-band Wi-Fi
Remember, Amazon prices can change at any time.
This post contains affiliate links.