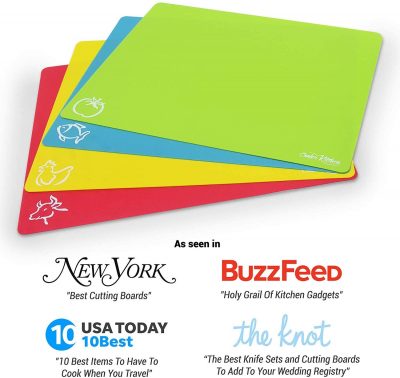 Cooler Kitchen was founded in 2014 by an apartment dwelling couple in New York City. We love to cook at home and we are always on a mission to find new products that minimize space and maximize our time in our small beloved kitchen.
So many cooking products are mass produced, drab looking, and often uncomfortable to use. Our passion is to make everyday cooking exciting and joyful. We devote ourselves to selecting and designing high quality kitchen products for the modern home chef.
I love having color-coded chopping mats; it makes meal prep so much easier! Click here for the Extra Thick Flexible Plastic Cutting Board Mats with Food Icons & EZ-Grip Waffle Back, (Set of 4) – Textured Waffle Grip Bottom Prevents Slipping On Most Counter Tops – Prevents Cross Contamination, only $12.74 for a limited time!
OUR TEXTURED & FLEXIBLE PLASTIC CUTTING BOARDS FOR KITCHEN ARE BUILT TO LAST – Don't just buy a thin flimsy see through sheet of plastic like you did last time. Other cutting mats will warp heavily in the dishwasher, slide dangerously on your countertop, and are often flimsy and hard to cut on. What's the point of buying a cutting mat if your sharp knife will cut right through them? They may be cheaper, but you're not going to be satisfied, or get much of a lifespan out of them.

OUR MATS ARE THICK – 1MM! Our mats are sturdy and durable while still maintaining their flexibility to curl for easy cooking, or dumping your ingredients quickly into a pot or pan. They are also so stunning they could be used as place mats!

NON-POROUS HYGIENIC ODOR RESISTANT COATING – Naturally non­stick and non­toxic BPA FREE! Includes antimicrobial protection with built-in defense properties that inhibit the growth of stain and odor-causing bacteria. The color coded set prevents cross contamination for you & your family's safety.

TEXTURE WAFFLE GRIPPED BOTTOM – PREVENTS SLIPPING ON MOST COUNTER TOPS – Each chopping board has a crosshatch textured back, so the mats will not slip on your counter-top! (Just wet a paper towel and put underneath) Sized for the home chef. Easy to store & maintain.

SET OF 4 COLOR CODED HIGH QUALITY THICK PLASTIC CUTTING MATS – DISHWASHER SAFE – Great for kosher & vegetarian households! – flexible cutting board measure 12 inches by 15 inches. Easy to curl, roll, clean and store for just about any use. Great warranty! Add to cart now!
Remember, Amazon prices can change at any time.
This post contains affiliate links.