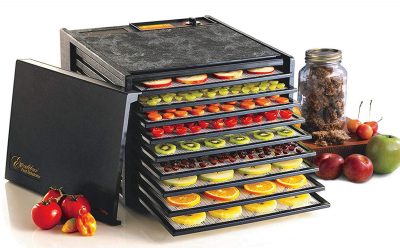 Today only, Amazon is offering up this very high quality Excalibur 9-Tray Food Dehydrator for only $154.99. That's a discount of $75! Not sure what you can make with a food dehydrator? Check out our list of 20 easy food dehydrator recipes. Yum! Features of this food dehydrator include:
TEN-YEAR: Limited Warranty

DRYING SPACE: 9-trays totaling 15 square feet of drying space offers plenty of room for your favorite snacks

PATENTED: Hyperwave Technology and Horizontal Parallex drying removes water from food with a continuous circulation of thermostatically-controlled warm air

DIAL IN: adjustable thermostat 105-degree Fahrenheit to 165-degree Fahrenheit featuring accurate temperature control and built in on/off switch

EASY TO CLEAN: Poly-Screen trays do not need to be moved or rotated during operation and prevent foods from sticking

HEALTHY SNACKS: Dehydrate delicious fruits, vegetables, nuts, meat for jerky, fruit puree for fruit roll-ups, raise bread or make homemade yogurt. Great for preppers, large families, gardeners, and sportsman

7″ fan for excellent air circulation
This post contains affiliate links.