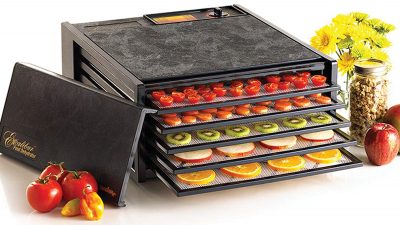 If you've ever considered a dehydrator, you have probably already heard that Excalibur is the best in the business! Today only, get the Excalibur 3500B 5-Tray Electric Food Dehydrator with Adjustable Thermostat for only $139.99. That's a savings of 30%!
The Excalibur 3500B Deluxe Dehydrator features built in on/off switch and adjustable thermostat temperature control ranging from 105 to 165 degrees Fahrenheit, making it safe to dehydrate meat for jerky. The 5-inch fan, heating element and thermostat are in the back of the unit, so cool air is drawn in, heated and then distributed evenly over each tray.

Hyperwave Technology and Horizontal Parallexx Airflow is exclusive to Excalibur and helps the food dehydrate faster, retain more nutrients, and look and taste better – no tray rotation required

5 poly-screen trays equaling 8 square feet of drying space, perfect space for preserving extras from the garden

Dehydrate Fruits and Vegetables or Meat and Fish for Jerky; Re-crisp breads, crackers, etc.; Make soup mixes and reconstitute later

Built in on/off switch; 5-tray dehydrator, 8 square feet of drying space; Includes adjustable thermostat; Easy-to-clean Polyscreen tray inserts

VOLTAGE: 110V
This post contains affiliate links.