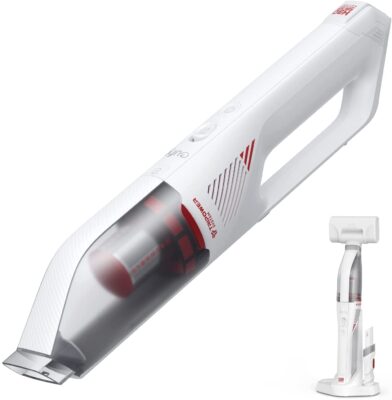 Time to up your spring-cleaning game! Today only, save on eufy Robot Vacuums and Vacuum cleaners. A powerful suction that allows for great efficiency and enough strength to take on messy tasks. Activate Max mode and utilize all 80 AW. At only 1.78 lbs (808 g), you can conveniently and effortlessly vacuum your daily messes. Get this eufy by Anker, HomeVac H30 Mate, Cordless Handheld Vacuum Cleaner, 80 AW, 16kPa Strong Suction Power, Ultra-Lightweight 1.78lbs, Charging Dock, Pet Hair Cleaning, only $109.99 today!
CORDLESS SUCTION POWER: Incredible 80 AW / 16kPa suction power delivers extra strength to effectively clean up. Switch between Eco or Max mode, depending on your messes.

ULTRA-LIGHTWEIGHT: At 1.78 lbs (808 g), you can effortlessly clean places that you haven't been able to before—like air vents, high shelves, or light fixtures.

PET HAIR MAGNET: Perfect for pet lovers. Easily pick up fur from upholstery and other hard-to-clean surfaces.

CHARGE AND STORE: Keep everything charged and stored in one place, so HomeVac is always ready when you need it.

VERSATILE USAGE: Choose between various tools, like the mini-motorized pet brush and 2-in-1 crevice tool to tackle different messes.
This post contains affiliate links.