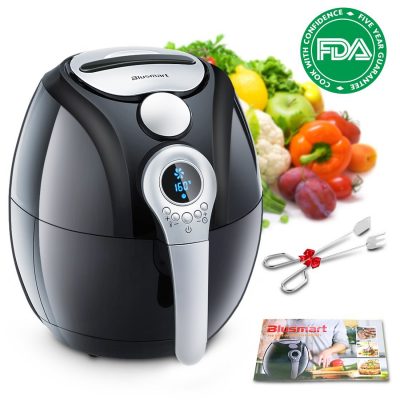 Here's a great deal on this year's most popular cooking trend! Today only, get the Electric Air Fryer, Blusmart Power Air Frying Technology with Temperature and Time Control LED Display 3.4Qt/3.2L for only $53.99. That's a discount of nearly 50% on this highly-rated product!
【Extraordinary Air Frying Technology】 – The air fryer circulates extremely hot air and flows heat currents around food, delivering the fast and precise results. Producing delicious fried food which gets crispy exterior and moist interior with little or no oil, it cooks healthier food with up to 80% less fat.

【Smart Temperature & Time Control 】– The user-friendly temperature control allows you to choose the best temperature from wide temperature range (170 to 400 °F) for frying, baking, grilling or roasting ingredients to prepare any type of meal at any time. With an auto shut-off timer preset, your fryer will shut down in 2 hours as desired.

【Intelligent Working Mode】 – For safety and efficiency concerns, the fryer only start to work when the fry basket is securely in place. Removing the basket in cooking progress whenever you like to add more seasoning or check on your food, the fryer continues working after you inserting the basket properly again.

【Easy Cleanup Family Size Fryer 】- With 3.4Qt capacity and compact size, the fryer is designed for the whole family and can fit in any countertop. Preparing a yummy and tender roast chicken for a special day, the non-stick inner surface is easy to clean with soap water. Additionally you can put the basket in the dishwasher for your cleaning convenience.

【Step-by-step Cookbook】– Making great meals with a great, helpful cookbook, 29 quick-and-easy recipes guide you to create healthy and tasty food. For deep fried food lovers, air fried food as a healthier alternative, it keeps crunchy and juicy taste without added fat and calories.
This post contains affiliate links.