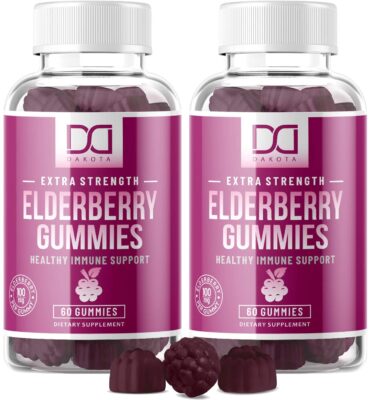 Don't torture yourself with spoonfuls of syrups or hard to swallow capsules and tablets! Dakota has developed and naturally sweetened gummies for your health, helping you feel your best when you need it most. Our sugar free formulated gummies don't just help in boosting your system, but they also provide antioxidant protection and support in fighting bacteria to get you feeling better – fast. Click here for the Elderberry Gummies with Zinc, Vitamin C for Adults, Kids for Immune Support Booster Supplement – Sambucus Black Elderberry Extract – Top Alternative to Capsules, Syrup, Pills, Tea (2 Pack), only $25.45 for a limited time.
(120 Gummies | 2 Month Supply) : Made with 150mg of Natural Sambucus Black Elderberry, Zinc, Vitamin C

Made in USA

3-IN-1 PREMIUM SUPPORT – Dakota's ELDERBERRY GUMMIES pack a potent formula that combines the health benefits of Vitamin C, Zinc, and Black Elderberry Extract; This potent combination delivers a sambucus elderberry gummy that provides the body an antioxidant that helps the immune system and your overall health

DELICIOUS, HEALTHY, AND LOW SUGAR – Our sambucus elderberry gummies are made from infused syrup natural black elderberry extract. These elderberries are a small, tart, healthy, and delicious alternative to regular gummy bear candy or Elderberry Capsules. Your kids won't know the difference and it will be a surprise treat for adults. These elderberry multivitamin gummies contain NO high fructose corn syrup, No preservatives, and are low sugar gummy vitamins

SEASONAL ALLERGY – This isn't your mom's Elderberry Syrup or Cold & Cough Medicine. This is an all year round gummy vitamin supplement booster that only requires one chewable gummy per day instead of 6 or more pills, capsules, tablets, or several tablespoons of syrup. Combined with Zinc and Vitamin C supplements which are included for their essential role in maintaining our health and aiding our body's natural defenses.

TRANSPARENCY AND TESTING – We set the bar higher at Dakota. We know transparency is important to you and it should be! Before that bottle arrives to your location, it goes through stringent third party testing that includes testing the raw materials and ensuring purity and potency. We also test for the exact concentration of ingredients to ensure absolute safety and effectiveness as well to make sure each bottle has what it says it has

A BRAND YOU CAN TRUST – All of Dakota's vitamin supplements including our Gluten Free Sambucus Elderberry Gummies are specially formulated with the highest quality all natural ingredients to help the immune and a healthy immune system. This premium formula is purity tested and free of GMOs, preservatives, and the most common allergens.
Remember, Amazon prices can change at any time.
This post contains affiliate links.