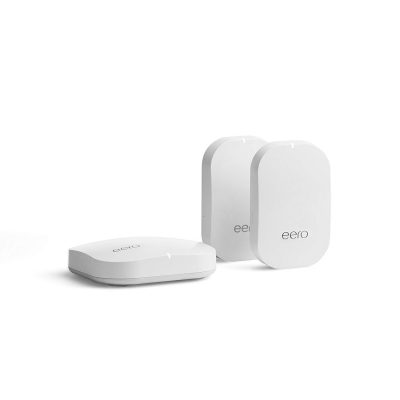 The gateway of an eero system, eero (2nd generation) has two auto-detecting Ethernet ports that allow you to connect to your modem and any other device (like an Ethernet switch or printer). With the addition of a third 5Ghz radio, eero is now tri-band and twice as fast as its predecessor, which lets you do more, simultaneously, in every room of your home. eero is WiFi you never have to think about again. Click here to get the eero Home WiFi System (1 eero + 2 eero Beacon) – Advanced Tri-Band Mesh WiFi System to Replace Traditional Routers and WiFi Ranger Extenders, only $299 today!
WHOLE HOME WIFI SYSTEM: The eero WiFi System (1 eero + 2 eero Beacon) replaces the traditional WiFi router, WiFi extender, and internet booster by covering a 2-4 bedroom home with fast and reliable internet powered by a mesh network.

eero SECOND GENERATION: With the most intelligent mesh WiFi technology and powerful hardware, the eero 2nd generation WiFi system is 2x as fast as the original eero WiFi. Backwards compatible with 1st generation eeros.

WIFI EXTENDER: The eero Beacon is a full-fledged WiFi access point that simply plugs in to standard outlets and easily extends your WiFi connectivity to every device with more reliability than the standard WiFi booster.

MESH NETWORK: Powered by proprietary TrueMesh technology, the eero mesh WiFi network leverages multiple wireless access points to create an incredibly dependable internet experience, all on a single mesh WiFi system.

QUICK & EASY SETUP: Replacing your old WiFi router has never been easier than with the eero Whole Home WiFi System. Set up takes minutes and the companion mobile app makes managing your home WiFi simple and intuitive. Altitude operating: 3000m; Storage: -25C – 60C
This post contains affiliate links.