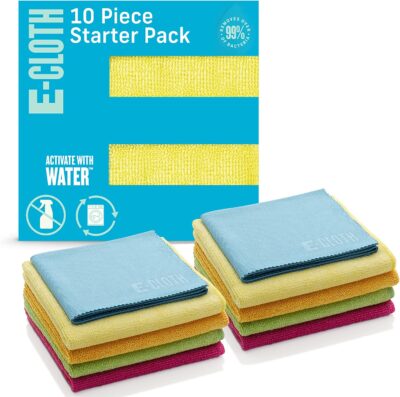 I love these cloths and use them all the time! Not all microfiber is created equal. With 3.1 million premium microfibers per square inch, E-Cloth offers 2x the durability, 9x the density and 10X the cleaning power of bulk microfiber. Get this E-Cloth Starter Pack, Premium Microfiber Cleaning Cloths, Great Household Cleaning Tools for Bathroom, Kitchen, and Cars, Washable and Reusable, 100 Wash Guarantee, Assorted Colors, 10 Piece Set for only $21.84!
Microfiber

The E-Cloth Starter Pack is your go-to for nearly every cleaning and polishing task, from sticky counters to smudged windows. This pack includes 8 General Purpose Cloths and 2 Glass & Polishing Cloth for a satisfying streak-free finish

Simplify home cleaning. This pack has all you need to tackle common household messes throughout the house — and makes it easy to always have a spare handy

With the muscle of precision-engineered microfiber plus water, who needs additional sprays?

With made-to-last quality backed by our 1-year or 100-wash promise, you may never put paper towels or additional cleaners in your shopping cart again

How's this for refreshingly simple: Dampen a General Purpose Cloth with water. Wipe. Follow with a dry Glass & Polishing Cloth for the perfect finish
Remember, Amazon prices can change at any time.
This post contains affiliate links.