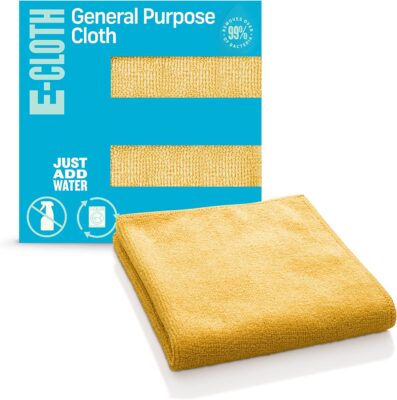 We love E-Cloths here at Bargain Babe, and this is a great way to try them at a low price. Click here to get the E-Cloth Premium Microfiber Cleaning Cloth for just $3.32. That's a 58% savings!
Always up for some good clean fun, the E-Cloth General Purpose Cloth tackles nearly every household cleaning task on your list. Its precision-engineered microfibers trap grease, grime, fingerprints, and over 99% of bacteria on countertops, tile, appliances, even glass — all with just water

With so many grab-and-go uses, this cloth is sure to be a constant companion, freeing you to skip those bottles of cleaning fluid and speed through chores. Just dampen and wipe. Rinse and dry between tasks. Toss in the washing machine to refresh

Masses of precision-engineered microfibers attract, break up, and grab grime with the cleaning power of water. No need to add additional cleaners that could linger in the air, travel down the drain, or linger on surfaces

We think our 1-year or 100-wash promise stacks up nicely against the mountain of paper towels and plastic bottles of cleaners you might use otherwise

Dampen with water. Leave only water behind. So much simpler, swifter, and savvier, it's hard not to share the news
Remember, Amazon prices can change at any time.
This post contains affiliate links.