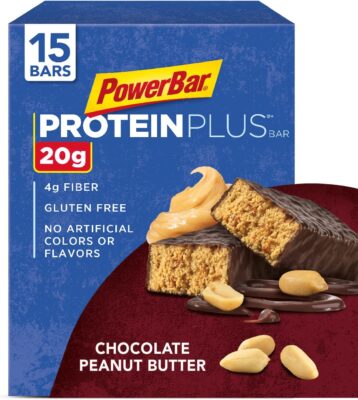 New energy in the New Year! Click to save on Dymatize, Premier Protein, and PowerBar.
PowerBar Protein Plus Tri-Source Protein Blend contains all nine essential amino acids. They are essential because the human body cannot produce them on its own and must receive them through food. After leaving it all on the court, field, or gym, PowerBar Protein Plus bars are there, offering an excellent source of protein and superior taste to help post-workout muscles recover with ease. Available in 5 delicious flavors: Vanilla, Chocolate Peanut Butter, Peanut Butter Cookie, Chocolate Mint Cookie, and Cookies and Cream. Get this PowerBar Protein Plus Bar, Chocolate Peanut Butter, 2.12 Ounce (15 Count) for only $15.47!
Each bar contains 20g protein and 4g fiber

Delivering high quality protein, a good source of fiber, and great taste in each bar, they are designed especially for everyday athletes, Enjoy the convenience of these grab and go bars to help replenish muscles and recover with ease post workout or as a snack any time of day

Available in 4 delicious flavors: Chocolate Peanut Butter, Cookies and Cream, Vanilla, Peanut Butter Cookie

NO ARTIFICIAL Colors or Flavors, NO Trans Fat, GLUTEN FREE

Each carton contains 15 bars
This post contains affiliate links.