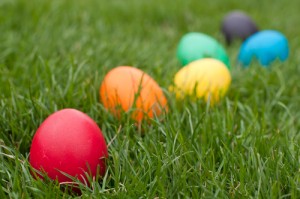 I've decided to dye my Easter eggs naturally this year. Why? Why not? I have little kids in the house and I don't see any point in buying a dye kit when I have spices and vegetables on hand that I can use instead. Plus, then I don't have to run out to buy the kit. Anybody with kids knows what a time suck it is to run errands with little ones!
UPDATE: Not that I've tested five of these natural dyes, I can say that they do not work as well as traditional store-bought dye. If you enjoy a project and like science, natural dyes are perfect for you. If you want quick, bright colors, buy the kit.
Easy recipes to dye Easter eggs with natural ingredients.
Preparing your natural egg dyes
You can get your eggs to turn almost any color using natural ingredients. The best part is that you probably already have a lot of these items on hand. You'll need to boil most of these items for 15-30 minutes, then reserve the colored cooking water until you are ready to dye.
When you are ready to dye, mix the colored cooking liquid with 2-3 tablespoons vinegar, which makes the mixture acidic enough to adhere to the eggshell. Soak for at least 10 minutes and be prepared to soak them much longer – perhaps as long as two nights for intense color similar to what you would get with a traditional store-bought kit in an hour.
Natural ingredients for each color
Red – Pomegranate juice, Canned Cherries with juice, Raspberries, Cranberries, Lots of Red Onions Skins (boiled)
Red orange – Paprika (THIS WORKED WITH TWO NIGHTS SOAKING AND CAME OUT A BROWN ORANGE COLOR)
Orange – Yellow Onion Skins (boiled), Carrots, Paprika, Chili Powder
Pink – Beet juice (THIS WORKED SUPER WELL FOR ME), Radishes, Cranberries or Cranberry Juice, Raspberries, Red Grape Juice, Juice from Pickled Beets, Amaranth flowers
Yellow – Orange or Lemon Peels (boiled) I BOILED TANGERINE PEELS FOR MORE THAN AN HOUR THEN LET AN EGG SIT TWO NIGHTS IN THE DYE AND IT WAS BARELY YELLOW AT ALL, Carrot Tops (boiled), Chamomile Tea, Celery Seed (boiled), Green tea, Dark tea, Ground Cumin (boiled), Ground Turmeric (boiled) THIS WORKED REALLY WELL FOR ME, or Saffron.
Green gold – Yellow Delicious apple peels
Green – Spinach Leaves (boiled) THIS DID NOT WORK AT ALL AND I BOILED SPINACH LEAVES FOR A WHOLE HOUR, Chlorophyll capsules (find them at a natural grocery store).
Green (easy) – Combine 1/4 cup of yellow dye with 2 cups of purple.
Tip: Not sure how much natural ingredient to use? More is best for natural dyes.
Blue – Blueberries (worked *really* well for me), Blackberries, Red Cabbage Leaves (boiled), Grape Juice
Purple – Violet Blossoms, Hibiscus tea, Small Quantity of Red Onions Skins (boiled), Red Wine, Small Quantity of Purple Grape Juice, Red Zinger Tea
Brown (or light brown if you don't dye as long) -Coffee, Black Tea
Brown orange – Chili powder
Tips for egg dying success!
1. Boil until the water is darker than the color you want the eggs to be.
2. The longer you leave the egg in the dye, the more intense the color will be. The eggs will not get as dark as the color of the water. For overnight soaking, place eggs in dye in fridge.
3. To give dyed eggs a nice shine, dry them completely before rubbing a thin layer of olive or vegetable or canola oil on them.
4. Experiment with what colors ingredients in your kitchen create. What fun for the little ones!
5. Expect the dyes to fade significantly. All of our eggs came out beautiful and bright, then had faded to a fraction of their glory the next day. It was as if the shell kept absorbing the dye, leaving the shells less colorful.
6. When the eggs are dye, rub them gently with a soft cloth to remove any residue or film. Many of our eggs came out with a film on them, and when we rubbed them, it came off, taking a good portion of the color with it. Expect this, and remove the film as you dye so the shell gets more access to the color.
What natural dyes have you used?