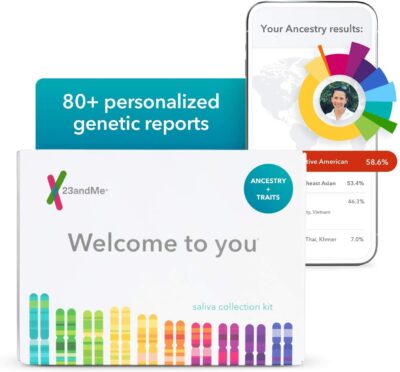 Get matching DNA tests for you and your pooch! Today only, grab the 23andMe Ancestry + Traits Service: Personal Genetic DNA Test for just $89.
ANCESTRY FEATURES: Know your personal story in a whole new way. Discover your ancestry composition and where in the world your DNA is from across 2000+ regions. Discover the origins of your maternal and paternal ancestors and how they moved around the world over thousands of years. Discover when different ancestries were introduced into your DNA and how many generations ago you had an ancestor that was descended from a single population or ethnicity.

EXPLORE YOUR TRAITS: Know what makes you, you. Discover what makes you unique with reports like hair photobleaching and freckles. See what your DNA might have to say about your taste and smell preferences. Discover how DNA can affect your ability to match a musical pitch or whether you hate the sound of chewing.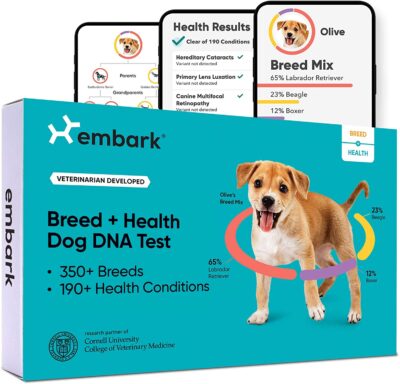 For your dog, Embark Dog DNA tests start at only $96.75 for the Breed Identification Kit. Or upgrade to the Breed & Health Kit for just $135.
BREED DISCOVERY: Embark screens for over 350 dog breeds, types, and varieties. Using a research-grade genotyping platform developed in partnership with Cornell University College of Veterinary Medicine, Embark offers the most accurate breed breakdown on the market.

MOST ACCURATE: In mixed breed dogs, Embark can precisely detect breed contributions down to 5% of the total breed make. This makes Embark's product more than twice as precise as other tests on the market that can only detect breed contributions of 12% or more.
Remember, Amazon prices can change at any time.
This post contains affiliate links.