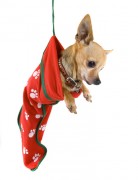 Here are 107 mostly DIY stocking stuffers that you can make. Sometimes you just need to throw money at the problem so we've thrown in a few that you can buy. Our list of DIY stocking stuffers from 2011 is worth peeking at, too.
1. Recipe cards filled out with surprising new recipes
2. Homemade fudge
3. Scavenger hunt clue that leads them to other gifts
4. Satchel of lavender, sewn into a design of your own choosing
5. Homemade snow globe (all you need is a jar with a lid, water, glitter, one or two small figurines, hot glue gun to affix figurines)
6. Envelopes made out of pretty paper
7. Knitted socks
8. Special origami figurine
9. Cake pops
10. Personalized chapstick or lip gloss
11. Homemade card or note
12. Coupons for chores or treats, like a 10-minute shoulder massage. Aaaaah!
13. Hand painted coasters (pick up blank ones at Michael's or a craft store)
14. Knitted head band
15. Roll up chess board with buttons or other items for pieces
16. Chocolate dipped strawberries
17. Hair pins or clips with special adornment (gotta love that glue gun!)
18. Seed bombs
19. Mini picture frame
20. Secret treasure map (leading to other clues or presents)
21. Knitted cap
22. Candy (homemade or store bought)
23. Stamp with their initial or name on it
24. Eyemask sewn out of silky material
25. Baggie of hot cocoa powder with mini marshmallows at the top
26. Ornament with picture of themselves or someone special in their lives
27. Mini bottles of alcohol (for adults, obviously)
28. Signed baseball
29. Chocolate chocolate chocolate
20. Deck of cards
21. Orange
22. Pass the pigs game
23. Mini bottle of perfume (use essential oils to make your own)
24. Pocket calendar (print out dates and glue to special pictures)
25. Personalized match box
26. Lipstick
27. Movie passes
28. Truffles that you made
29. Salty nuts
30. Wrapped rolls of coins
32. Personalized book mark (you can make them out of just about anything, magazine cutouts, your own drawings, buttons, etc)
33. Homemade beef jerky
34. Homemade cards using old pictures, sheet music, mag cutouts, etc
35. Heating pack filled with rice
36. Homemade book mark made out of a paper clip with ribbon strands tied to one end
37. Water colors
38. Chocolate covered nuts
39. Markers
40. Cigar
41. Special paper
42. Colored pencils
43. Homemade matchbox
44. Highlighters
45. Chocolate covered pretzels
46. Glitter stick
47. Spicy nuts
48. Blush
49. Homemade cigarbox
50. Lip gloss
51. Compass
52. Coffee, beer or tea cozy
53. Magnifying glass
54. Spy mask
55. Feather boa
56. Dolls
57. Doll house furniture and items
58. GPS
59. Laundry quarters
60. Hair ties
62. Microwave popcorn
63. Stickers
64. Key chain
65. Gum
66. Pocket knife
67. Water balloons
68. Water gun
69. Note cards
70. Finger puppets
71. Shower radio
72. Travel size toiletries
73. Pocket tissues
74. Disposable camera
75. Bouncy ball
76. Personalized stationary
77. Game of jacks
78. Necklace
79. Meat thermometer
80. Eyeshadow
81. Mini nerf ball
82. Underwear
83. Travel alarm clock
84. Action figures
85. Ring
86. Glitter cheek powder
87. Paperback book
88. Hot wheels
89. Eraser
90. iPod or MP3 player
91. Bracelet
92. Orange or tangerine
93. Headphones
94. Sexy lingerie (it balls up small!)
95. Fake tattoos
96. Hand sewn mittens
97. Pocket dictionary or translator
98. Map
99. Gift card
100. Handkerchief
101. Silly putty
102. Coin purse
103. Batteries
104. Henna tattoo kit
105. Small flashlight
106. Mini whisk or spatula
107. Cash
Related reading:
This post contains affiliate links.