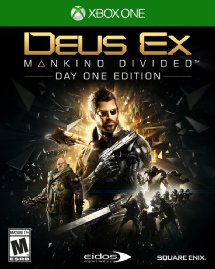 Right now you can snag Deus Ex: Mankind Divided for PS4 or XBox One for only $19.99! That's the best price ever!
IN THE NEAR FUTURE, MANKIND STANDS DIVIDED – Explore diverse locations and discover a near future where humanity's fate, amid the oppression of the mechanically augmented, hangs in the balance

HUMAN 2.0 – Become the ultimate augmented covert agent as you choose from a vast array of weapons and augmentations, customizing them to your desired specifications

MEANINGFUL CHOICE AND CONSEQUENCES – Experience the renowned world of Deus Ex, where your decisions and actions play a crucial role in determining the game's outcome

BREACH – innovative live game mode included for free; Offers an arcade approach providing a connected puzzle shooter experience; Rewards earned allow you to face the increasing difficulty of the game
This post contains affiliate links.