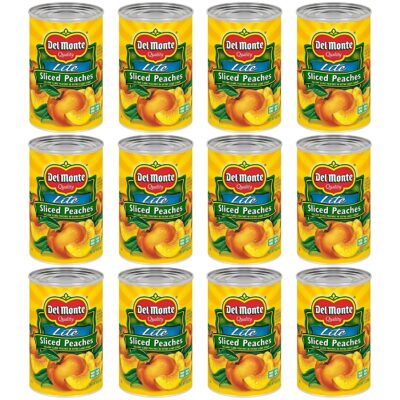 The Del Monte Canned Sliced Peaches, with their sweet flavor, complement all of your favorite recipes and different types of dishes, salads, drinks, and desserts. These delicious fruit slices are a tasty topping for yogurt, cereal, salads, and your favorite flavored gelatin for a fun and tasty treat. The fruit, immersed in a Naturally Refreshing fruit juice, will elevate any dish you make to another level. They contain much-needed nutrition apart from vitamins A and C. They also contain dietary fiber, which is beneficial for your body and health. The peach slices are the perfect snack to be eaten on-the-go and with whatever you desire. When you trust Del Monte, you can be sure what you're buying is the peak of quality and nutrition! The Del Monte name has been synonymous with premium foods since its debut in 1886. For generations, our company has proudly earned its reputation with a series of innovations and a singular dedication to quality. Today that commitment to quality is deeply embedded in our culture. Get this Del Monte Foods Sliced Yellow Peaches in Extra Light Syrup, 15 Ounce (Pack of 12) for only $16.68!
We grow with care on farms, many of which have been working with us for generations. More than 95% of our vegetables and fruits are grown at family farms in the United States.
Our products are picked at the peak of ripeness and packed within hours to capture the produce's delicious flavor and peak nutrition.
Our sustainability program began nearly 100 years ago when we started crafting our own plant varieties to allow us to grow the best produce while helping to build a sustainable future.
Our passion for quality goes back generations. Del Monte has been striving to bring wholesome vegetables, fruits, and tomatoes to family tables for over 130 years.
Remember, Amazon prices can change at any time.
This post contains affiliate links.