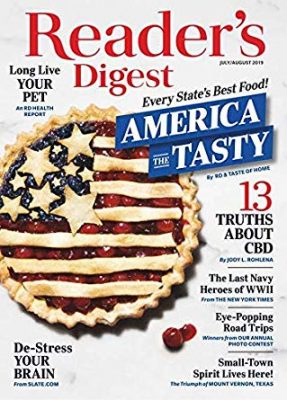 Today only, get digital magazine subscriptions for only $3.75. The selection includes Family Handyman, Reminisce, Birds & Blooms and more.
Reader's Digest lets you read smart, useful tips on health, work, food, relationships, home, and money, all expertly selected from hundreds of online and print sources. You'll discover original profiles of inspiring people, real-life dramas, insightful essays, and news roundups that get you up-to-date fast on the issues you care about. All the features and departments from the print edition are here, including the jokes and funny true stories, along with our famous Word Power column. Kindle Magazines are fully downloaded onto your Kindle so you can read them even when you're not wirelessly connected. Reader's Digest digital subscription is only $3.75 today!
This subscription comes with a risk-free 30-day FREE period after which the subscription starts. Learn more about subscriptions.
This subscription will automatically renew until you decide to cancel. For subscriptions with terms of 6 months or longer, or where otherwise required by law, Amazon will send you a renewal notice via email before your subscription expires and notify you of the rate at which your subscription will renew. Amazon will renew on your behalf at the lowest renewal rate then available to Amazon.com customers at the time of renewal. We will send you a notification if the renewal price changes. You may change your credit card, address information or cancel your subscription before the renewal order is placed. Learn more about auto-renewal.
Already a subscriber? Verify your subscription to get the Kindle edition for free.
This post contains affiliate links.