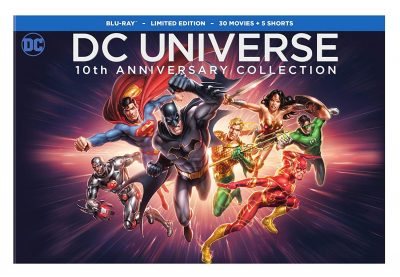 Talk about an epic collection! Today only, get the DC Universe 10th Anniversary Collection, 30-Movies Set for only $99. That's an awesome discount of $200! Celebrate the DC Universe 10th Anniversary with a 30-Film Collection of your favorite DC stories from Superman: Doomsday to Batman and Harley Quinn. Plus 5 animated original shorts! Also, get a 40-page Adult Coloring Book and Collectible Coins!
The films are based on or inspired by storylines and/or characters from within the ever-expanding DC Entertainment library. The stories range from films based upon classic DC comics/graphic novels (Superman Doomsday, Justice League: The New Frontier, Batman: The Dark Knight Returns, Batman: The Killing Joke) to films inspired by themes from within DC history (Batman vs. Robin was inspired by The Court of Owls series; Superman vs. The Elite was inspired by 'What's so Funny About Truth, Justice and the American Way?') to original stories (Justice League: Gods and Monsters, Batman and Harley Quinn).
What extras come with this collection?
Over 20 Hours of Special Features (Including over 2 Hours of All-new Content), Exclusive Collectible Coins, and an Exclusive 40-page Adult Coloring Book featuring key art from all DC Universe Animated Movies.
This post contains affiliate links.