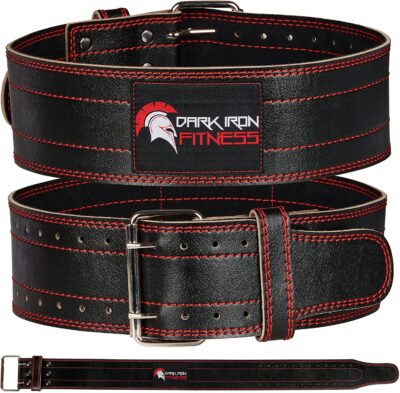 0
Getting more serious about lifting? Today only, save on Dark Iron Fitness Weight Lifting Belts! The Dark Iron Fitness Weight Lifting Belt for Men & Women – 100% Leather Belts, Adjustable Back Support & Stability for Gym, Weightlifting, Strength Training, Squat or Deadlift up to 600 lbs is only $25.83 today!
Strong: Our weightlifting belts for men and women leather don't break, tear, or wear out. Enhances workouts while providing safe protection for your spine and core.

Comfortable: Made from 100% genuine buffalo hide leather, the weight lifting belts are designed to be soft, supple, and flexible so they can help eliminate any pain, yet remain super supportive

600 Lb Limit: Allowed you to squat or deadlift well over 500 and 600 pounds without issues. The weight lifting belt for women and men is USAPL approved.

Powerful: With the right thickness and width, our weightlifting belt allows for extra power, strength, and support in your back or abs to help improve your lifts by 10% on average.

High Quality: Produced with expert craftsmanship, each gym belt is 4mm thick and 4″ with reinforced stitching and a double-tongue buckle that is sturdy enough to always have your back.
This post contains affiliate links.