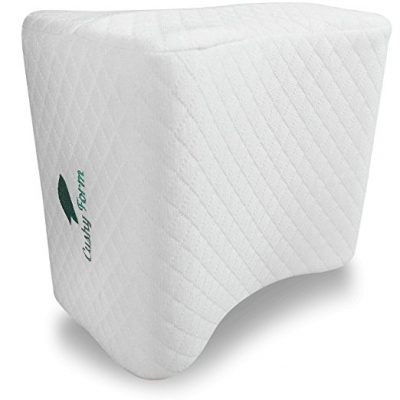 If you have back pain or chiropractic issues, this pillow could make all the difference! Today only, get the Cushy Form Sciatic Nerve Pain Relief Knee Pillow for only $14.30. It's 75% off the listed price right now. Check out the excellent reviews and impressive features:
CONTOUR KNEE PILLOW – This contoured superior memory foam knee pillow with washable cover allows for a comfortable all night's sleep by elevating your upper knee. The therapeutic side sleeper body positioner – encourages the correct posture. No more restless nights!

SCIATICA PAIN RELIEF – Eases back, leg, knee, ankle and hip joint pain by providing proper spinal alignment and reducing pressure while sleeping. Just insert the bolster between your knees and sleep on the side most comfortable for you. Customers report great comfort when using our premium knee pillow for sleeping on their side

ESSENTIAL CUSHION – Improves circulation for side sleepers, use as knee spacer during pregnancy or post surgery recovery, assists with restless leg syndrome. Includes a free storage and travel bag! The Cushy Form knee pillow will feel softer in warm and firmer in cold temperatures. The pillow will also react to your body heat by yielding and softening throughout the night

TRUSTED – Recommended by Physical Therapists, Doctors, Sports Trainers and Chiropractors. Cushy Form is 100% Visco-elastic memory foam, hypo-allergenic

GUARANTEE – We have a 100% MONEY BACK GUARANTEE, NO QUESTIONS ASKED, NO CATCHES! If you're not thrilled with your purchase for any reason, just tell us and we'll refund 100% of your purchase price – anytime! 
This post contains affiliate links.