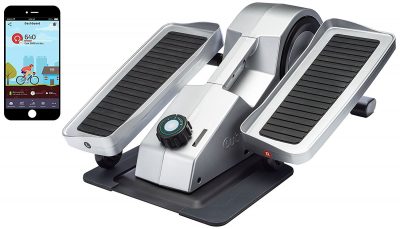 Here's an easy, convenient way to stay fit without the space of traditional exercise equipment! Today only, get the Cubii Pro Under Desk Elliptical for only $249! That's a savings of $130! Work fitness into your daily routine with the original under desk elliptical. As the ONLY bluetooth enabled elliptical on the market, connect to the Cubii iOS and Android app to track calories, strides, miles, minutes and RPM. Set personalized goals and compete with others. Sync your workouts to FitBit and Apple HealthKit to reach your 10,000 step goal.
BLUETOOTH ENABLED – Burn an additional 150 calories per hour. Connect to exclusive mobile app to track calories, strides, distance, RPM and time. Sync to Fitbit and Apple Healthkit. Select from 8 resistance levels, allowing you to adjust and control the intensity of your workout. CubiI Pro is not motorized. (requires iPhone 5 or above running iOS 9 or above, and Android phones running OS 4.4 or above)

WHISPER QUIET – Designed specifically to be whisper quiet, discreetly workout at the office or home without disturbing those around you.

DURABLE AND STURDY – We built Cubii Pro to last and that means using better parts, better construction, and more quality control than some of the alternatives. Product size and weight were carefully considered to limit Cubii Pro from sliding while in use. You get lifetime warranty with purchase.

DESIGNED FOR COMFORT- Patented ergonomic angels provide a smooth elliptical exercise that is low impact on your joints. Its compact design lets you easily slide Cubii Pro under your desk without bumped knees.

EASY ASSEMBLY – Your purchase includes all required equipment for easy assembly (4 screws and you're done). Estimated assembly time is 3-5 minutes. 2 wheel stoppers included to keep your pesky office chair from rolling while pedaling.
This post contains affiliate links.