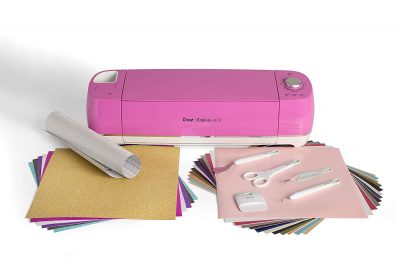 Cut and write faster and more precisely with the Cricut Explore Air 2. This Cutting edge DIY machine was designed to bring joy to you and others as you create projects with a personal touch. With this machine you're able to upload your own images for free, select from the 3, 000 ready-to-make projects, or create on your computer, tablet, or smartphone. It also comes equipped with Bluetooth for wireless Cutting. And the possibilities are endless because you can create projects on over 100 different materials, from vellum to leather. All this gets done quickly thanks to the double tool holder that allows for Cutting and writing or Cutting and scoring in one simple step. This machine gives you the tools and features you need to personalize, design, and create in a way that shows you care.  Today only, get the Cricut Explore Air 2 Fuchsia Bundle with Basic Tool Set and Two Vinyl Samplers for only $199.99.
OVER $50 IN ADDED VALUE: Included in the exclusive Cricut Explore Air 2 Fuchsia Bundle: Cricut Explore Air 2 Fuchsia, Basic Tool Set, Vinyl Sampler (12 piece), Glitter Vinyl Sampler (6 piece)

The Cricut Explore Air 2 is your personal DIY cutting machine. Make custom vinyl stickers, personalized home decor, unique greeting cards, custom designed apparel, and more

Upload your own images for free or choose from Cricut's vast library of pre-made designs and projects. Double tool holder for cutting and writing or cutting and scoring in one step

Make the perfect cut every time. The Smart Set Dial ensures that your machine cuts at the correct depth and pressure for any type of material

Cuts 100+ materials. Cricut offers a wide range of materials specifically designed and tested for use with the Circuit machine including basic and specialty Vinyl colors, Iron-on Vinyl's, Cardstock, Faux Leather, Adhesive Foils, Specialty Paper, Poster Board and more
 This post contains affiliate links.