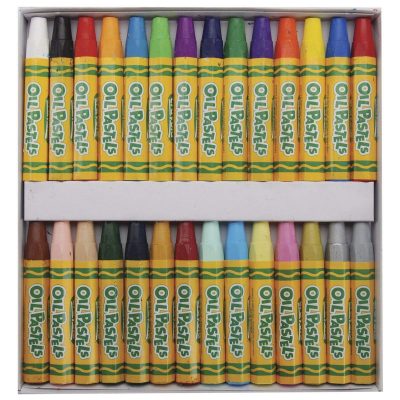 Crayola Oil Pastels lay down bright, vivid opaque color that blends to a true secondary color. The stick designed for children is jumbo sized for longer lasting uses and hexagonal so it does not roll off desks. The tapered point is ideal for detail drawing. Right now, get the 28 pack of Crayola Oil Pastels in brilliant opaques for only $3.97! 
EASY GRIP: Crayola Oil Pastels have rich color and creamy laydown. Colors are easy to blend. Pointed tips allow for detailed drawing. Hexagonal shape makes them easy to hold and they won't roll away.

OIL PASTELS: Perfect for art classrooms, poster making, community art groups, and more, Crayola pastels make art projects easy and fun! Choose your favorite colors & make sure you're never without the perfect pastel.

CREATIVE PROJECTS: Whether you're creating a landscape masterpiece or decorating t-shirts with your Girl Scouts troop, Crayola has the markers, pens, kids markers, paints, colored pencils & crayons you need to make your project pop in bold, bright colors.

CRAYOLA PASTELS are a must-have art supply for your tiny Van Gogh. Our classic colors are always a hit with kiddos, and for the more mature young artist, oil pastels can provide a new medium to engage their creativity and imagination.

FROM MARKERS TO SIDEWALK CHALK: Markers for kids or adults, washable paints, bright crayons, even scented markers, we've got it all! Crayola gives kids the power to express all that inspires them as they explore, discover, play, pretend, create & dream.

TRUSTED QUALITY: Crayola is passionate about helping parents & educators raise creative children who will become inspired, original adults. We've inspired artistic creativity in children since the first box of Crayola crayons rolled off the assembly line.
Remember, Amazon prices can change at any time.
This post contains affiliate links.