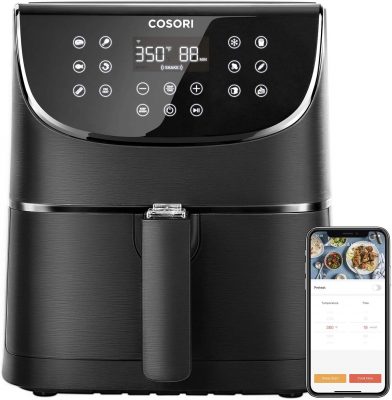 A Cosori Air Fryer means so much more than fries. Serve up egg bakes, impressive sides, desserts, roasted veggies, and just about any protein, expertly cooked. Today only, get the COSORI Smart WiFi Air Fryer 5.8QT for only $83.99!
The COSORI Smart WiFi has arrived on the Kitchen scene! The first air fryer that can now be controlled and monitored with your mobile devices. Special improved ergonomic angled display provide better viewing, without bending over. Slimmer footprint fit on your countertop and save your space. With the Smart WiFi COSORI is taking your meal preparation to new levels of convenience!

ALEXA and WIFI ENABLED: – The COSORI Smart WiFi air fryer provides you the ability to control your air fryer by using the Vesync APP or through voice with Alexa from anywhere. Now, you will have total air fryer control in the palm of your hands to cook, schedule, adjust and monitor the progress of your meals. Get a head start on dinner by scheduling a cook time 4 hours in advance

MORE THAN 100 RECIPES – The Vesync APP provides you with 100+ original, delicious & pre-programmed recipes to get you cooking with your mobile device. Plus, with the Vesync APP new recipes are added weekly to provide you with the dishes you crave. Find out how our numerous influencers cook their food with COSORI air fryer from our community!

SQUARE BASKET & DISHWASHER SAFE – Compared with a 4-quart round basket or even smaller one, COSORI air fryer's 5.8- Quart Square Nonstick Basket can fit a 5 lbs-6 lbs entire rotisserie chicken, while small round basket can't. Removable nonstick coated basket are dishwasher safe, PFOA-free & BPA-free. Product Dimension: 11. 8*11. 8*12. 6 in; Basket Dimension: 9*9*3. 75 in. The XL 5. 8-Quart size serves food for 3-5 people

THE BEST HEALTH GIFT CHOICE- For all those people watching their cholesterol or blood pressure, this is a perfect healthy gift for food-loving dads, mothers, family and friends. It has 85% less fat than traditional deep frying methods, but deliver the same deliciously crunchy taste of fried food with little to no oil. Also no oil fumes in house. Let your lover eat healthier!

EASY TO COOK – Built in digital one-touch screen menu featuring 11 presets-Steak, Poultry, Seafood, Shrimp, Bacon, Frozen Foods, French fries, Vegetables, Root Vegetables, Bread, Desserts, Preheat. Quickly navigate both the intuitive LED touchscreen and VeSync APP to select presets and adjust time and temperature settings. Just open the App, and pick a recipe.

COOKING FASTER – Cooking time is faster than conventional oven, but with crispier and tastier results. ETL Listed/FDA Compliant. Automatic shut off prevent overcooking, Overheat protection. With a cool touch handle & button guard to prevent accidental detachment. COSORI original air fryer accessory set is also available for sale (search for: C158-6AC)

Air fryer requires 2.4GHz frequency band to operate with App, 120V, 1700W. Please note that this voltage only applies to USA and Canada
This post contains affiliate links.