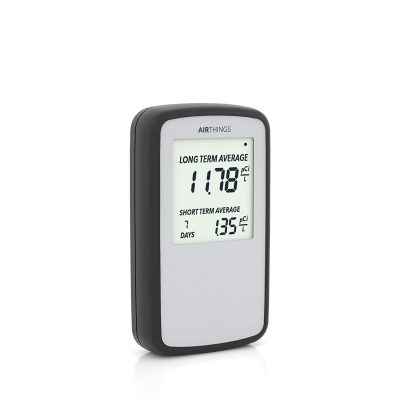 Radon is a radioactive gas that is found in all buildings at varying levels. It is the leading cause of lung cancer among non-smokers and kills more than six times the amount of people than home fires and carbon monoxide poisoning combined. It is invisible, is found everywhere and fluctuates daily. Radon is one of the most important components in our indoor air quality and the only way to know if you are exposed to radon is to measure daily. Every home needs a radon detector. The Corentium Home by Airthings Radon Detector is also an essential tool to use when performing property inspections or when checking the operation of a radon mitigation system.
Corentium Home Radon Detector by Airthings will provide you with detailed information about radon in your home; View short-term and long-term average measurements directly on the device. Use the data to take the necessary steps to protect your home and loved ones from the dangers of radon gas. Today only, get the Corentium Home Radon Detector by Airthings for only $125.
FIRST OF ITS KIND: The first battery-operated, digital radon detector. Monitor your home without the need for an outlet.

LONG TERM MONITORING: Monitor for cancer-causing radon gas. Long term monitoring is necessary as radon levels fluctuate daily.

FAST RESULTS: On-screen results show both long and short term readings, for a quick overview of your radon levels.

BE IN CONTROL: Take action if your radon levels are high. Know if your improvements have worked by checking the short term, on-screen readings.

RADON REPORT: Generate a radon self-inspection report easily, whenever you need it.

NO LAB FEES: Unlike a traditional radon gas test kit, receive your first indication of radon levels within 24 hours and no lab fees, ever!
 This post contains affiliate links.