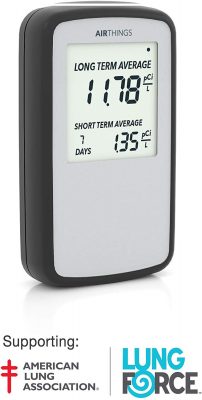 Radon gas is in the air all around us and levels fluctuate daily. The good news is that a digital radon detector warns you when levels are getting high. Simple fixes around the home can dramatically improve your air such as increasing ventilation or sealing cracks in floors or even installing radon mitigation systems and radon fans. Get the Corentium Home Radon Detector for only $99.99 today!
Airthings will donate $1 from each Corentium Home, Airthings Wave and Airthings Wave Plus sold on through January 31, 2020, to the American Lung Association's LUNG FORCE initiative to support lung cancer research. The American Lung Association does not endorse any product, device or service.

FIRST OF ITS KIND: The first battery-operated, digital radon detector. Monitor your home without the need for an outlet.

LONG TERM MONITORING: Monitor for cancer-causing radon gas. Long term monitoring is necessary as radon levels fluctuate daily.

BE IN CONTROL: Take action if your radon levels are high. Know if your improvements have worked by checking the short term, on-screen readings.

RADON REPORT: Generate a radon self-inspection report easily, whenever you need it.

NO LAB FEES: Unlike a traditional radon gas test kit, receive your first indication of radon levels within 24 hours and no lab fees, ever!

FAST RESULTS: On-screen results show both long and short term readings, for a quick overview of your radon levels.
This post contains affiliate links.