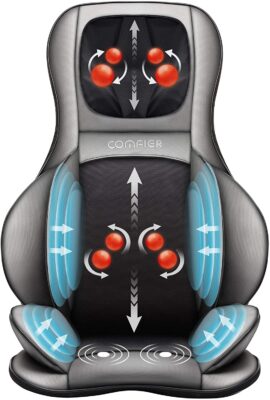 Who needs a massage? Click here to save on COMFIER Shiatsu Neck and Back Massagers. For a long time, in order to make life better and more comfortable, Comfier has persistently proposed various new ideas and methods, and added these ideas to our massage products. Click here for the Comfier Shiatsu Neck & Back Massager – 2D/3D Kneading Full Back Massager with Heat & Adjustable Compression, Massage Chair Pad for Shoulder Neck and Back Waist Hips, Full Body, only $159.99. 
Relax Full Body – The massage chair utilizes innovative 2D/3D Finger Pressure Shiatsu, Rolling, compression, Vibration and Heat functions to provide you an omni comfortable massage to the back like a spa massage.

Creative 2D/3D Shiatsu Massage – The Shiastu Neck & Back Massager with Heat, it has 4 rotation nodes to provide deep kneading massages for neck and shoulder. This massager incorporates our latest innovative technology, the massaging nodes move inward & outward motion to create 2D or 3D finger pressure shiatsu massage with double comfort for your back.

Adjustable Rolling & Spot Massage – The chair massager features soft rolling massage along the back spine combats across the whole back, and the width between two massage heads can be adjusted to fit the body. SPOT massage function allows you to concentrate massage on one area for pin-point relaxation. Also you can choose Full back, Upper back or Lower back to massage the target area as desired.

Optional Heat & Adjustable Compression Massage – The full back massager has a heating pad that delivers gentle warmth to the back. ADJUSTABLE COMPRESSION-massage on waist & hips that you can choose. Adjustable 3 intensity settings are available.

Ultimate Comfort – Place this seat massager on a sofa, couch, recliner, office chair or dinning chair to enjoy a massage in the comfort of your home ! Perfect christmas gift for mom, father, men, women, friends who need a massage. For any reason, if this massage chair pad does not meet your expectations, return it for full refund within 30 days.
This post contains affiliate links.