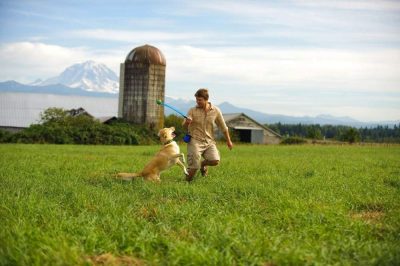 Just what every young pup needs! Today only, get the Chuckit! Dog Ball Launcher  for only $7.44. That's a savings of 25%!
THROW FARTHER AND FASTER: Elevate fetch with your dog with the Chuckit! dog ball launcher, increasing the range and speed of your throw and exercising your dog in a fraction of the time

LIGHTWEIGHT AND PORTABLE: Chuckit!'s ball launcher for dogs measures 26 inches long, making it easy to place in the trunk or backseat when you and your dog are on the move

HANDS STAY CLEAN: Launcher firmly grasps dog balls covered in mud and slobber for convenient pick-up without the mess; Chuckit! launchers and balls are tough dog toys designed for outdoor use

INCLUDES ONE CHUCKIT! TENNIS BALL: Chuckit! balls for dogs are brightly colored and easy to spot in tall grass; this Chuckit! tennis ball launcher is also compatible with standard-size tennis balls

CONVENIENT PICK-UP: Chuckit! Launcher's cupped end allows pet parents to collect balls easily without bending over

COMFORT AND CONTROL: Chuckit! launcher's soft, ergonomic handle makes it easy to direct the path of the ball somewhere your dog can always retrieve it

PLAYTIME AT THE POOL: Chuckit's dog fetch toys are ideal for playtime at the pool or the beach; the Chuckit! Tennis Ball floats for long-distance throws by the water

PETMATE REPLENDISH CHARCOAL FILTER: One charcoal filter included with the Replendish pet waterer; replacement filters available for purchase separately
This post contains affiliate links.