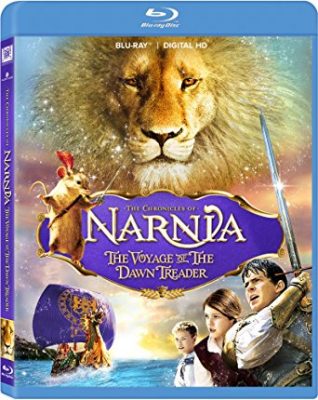 This deal caught my eye because pretty soon the kids and I are going to read the Narnia series together and I just can't wait! Right now the Voyage of the Dawn Treader is only $5.99 on Blu-Ray; a discount of $5. The Narnia movies are truly incredible and perfect for family movie night if your kids aren't too little!
Precocious siblings Lucy (Georgie Henley, The Chronicles of Narnia series) and Edmund Pevensie (Skandar Heynes, The Chronicles of Narnia series), along with their cousin Eustace (Will Poulter, Son of Rambow), are swallowed into a painting and transported back to Narnia. They join King Caspian (Ben Barnes, Dorian Gray) and a noble mouse named Reepicheep in a quest to rescue noble lords who had been lost fighting evil on another island. Aboard the magnificent ship The Dawn Treader, the courageous voyagers travel to mysterious islands, confront mystical creatures, and reunite with the Great Lion Aslan on a mission that tests their characters to determine the fate of Narnia itself!
Remember, Amazon prices can change at any time.
This post contains affiliate links.