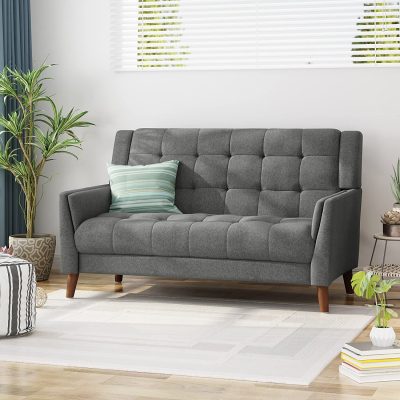 It's said that behind every great man is an equally great woman. The same applies to sofas and loveseats. The sofa is, after all, the "head of household," the one in charge of the room. But the loveseat rules from the side, understated in its power but, really, the one calling all the shots. It's a time-tested relationship proven to work again and again. Why not put it to work in your room? Right now, get the Christopher Knight Home Evelyn Fabric Loveseat, Dark Gray for only $249. That's the best price on record for this product.
Not one to be outshone when it comes to both comfort and aesthetics, This Mid Century modern Two-Seater sofa will most certainly give anybody's current arrangement a run for its money. Luxuriously upholstered and impeccably designed; allow this piece to open up your living room and tempt your guests with its soft and supple depths.

Includes: one (1) Loveseat

Material: fabric

Composition: 100% polyester

Leg Material: rubber
Remember, Amazon prices can change at any time.
This post contains affiliate links.