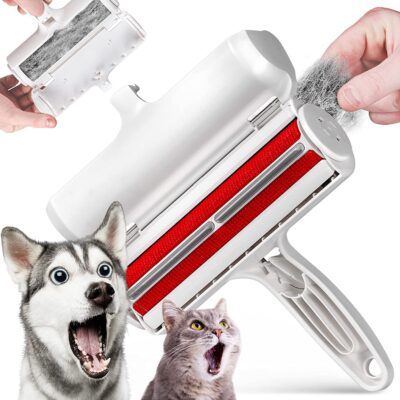 The ChomChom Roller is one of the World's Best Pet Hair Remover. By simply moving the pet hair roller back and forth, you immediately track and pick up cat hairs and dog hairs embedded deeply in sofas, couches, beds, carpets, blankets, comforters and more.
You have probably tried all types of pet hair and lint removal products… from sticky roller tapes, to products that cannot be used over and over again. With the World's Best Pet Hair Remover, you'll never need another gadget! No adhesive or sticky tape, no power source required, clean and convenient pet hair remover. They make great gifts. Click here for the ChomChom Pet Hair Remover – Reusable Cat and Dog Hair Remover for Furniture, Couch, Carpet, Car Seats and Bedding – Eco-Friendly, Portable, Multi-Surface Lint Roller & Animal Fur Removal, only $19.96.
VERSATILE – Keep your home free from loose lint and hair. The ChomChom lint roller for pet hair removal works like a charm on furniture, upholstery, blankets, and other items riddled with fur.

REUSABLE – If ripping off hundreds of lint roller sheets is a pet peeve of yours when cleaning, give our pet hair removal tool a go. It doesn't require sticky tape, so you can use it again and again.

CONVENIENT – No batteries or power source needed for this dog and cat hair remover. Just roll this lint remover tool back and forth to trap fur and lint into the receptacle.

EASY TO CLEAN – Upon picking up loose pet hair, simply press down on the release button to open and empty out the fur remover's waste compartment.

SATISFACTION – Should you have questions or concerns about this pet hair remover for laundry and beyond, our team is available 24/7 to help. We want you to be dog-gone happy with your purchase!
This post contains affiliate links.