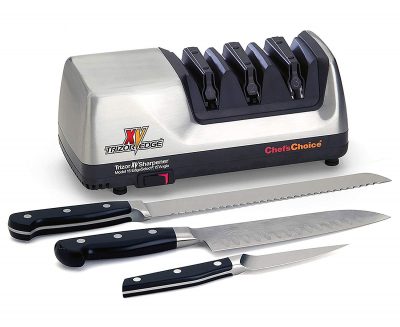 This highly-acclaimed professional 3-Stage EdgeSelect electric knife sharpener combines the strength and durability of the triple-bevel Trizor edge with the flawless, ultra-sharp 15˚ XV EdgeSelect technology to sharpen both fine edge and serrated knives. The reviews really speak for themselves in this case! Click here for the Chef'sChoice 15 Trizor XV EdgeSelect Professional Electric Knife Sharpener, only $99.99.
CONVERT YOUR KNIVES: Ideal for converting traditional 20-degree factory edges of household knives into high performance Trizor XV 15-degree edges

DIAMONDS: Advanced stropping stage and 100 percent diamond abrasives for sharpening straight edge and serrated blades. Noise is between 65 dB and 75 dB

EASY TO USE: Advanced, patented flexible spring guides for automatic adjustment and accurate control of the sharpening angle and feature simple on/off switch

THREE STAGES: 3-Stage EdgeSelect sharpening system for optimum versatility in providing the perfect edge for each cutting task. Stages 1 and 2 are plated with 100-percent diamond abrasives to sharpen and hone the edge and stage 3 uses a patented flexible abrasive system to polish and help prolong the life of serrated knives

RAZOR SHARP: The 15 Trizor XV combines the strength and durability of the Trizor edge with the flawless, ultra-sharp 15-degree XV technology. Time Required to sharpen is approximately 1 minute for first time sharpening and resharpening is approximately 10 seconds

ELECTRIC SHARPENER: Easily apply the astonishingly sharp Trizor XV Edge for ultimate sharpness and effortless cutting

3-year limited warranty. Weight: 4.42 pounds

Measures approximately 10 L x 4.25 W x 4.25 H inches
This post contains affiliate links.