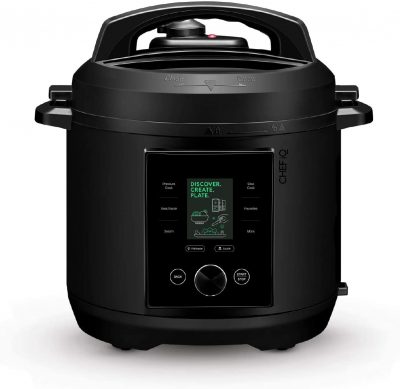 At CHEF iQ, we're bringing innovation, technology, and science into the kitchen to revolutionize the home cooking experience. The Smart Cooker includes a built-in scale, automatic pressure release, 300+ built-in cooking presets, and more. The CHEF iQ ecosystem seamlessly combines the hardware of the Smart Cooker and the software of the CHEF iQ App to provide you with a premium culinary experience you simply cannot get anywhere else. Plus, it's the only kitchen appliance that keeps getting smarter just sitting on your countertop with wireless firmware updates. Explore hundreds of exclusive Guided Cooking recipes in the app, then follow along with the step-by-step video instructions and send precise cooking parameters to your Smart Cooker at the push of a button. Today only, get the CHEF iQ World's Smartest Pressure Cooker Pairs with App Via WiFi for Meals in an Instant Built-In Scale & Auto Steam Release, Multi-Functional w/ 300+ Smart Cooking Presets, 6 Qt for only $149.99!
THE CHEF iQ APP: Connect your Smart Cooker to the CHEF iQ App via WiFi and Bluetooth. Access 100+ Guided Cooking recipes and culinary how-to videos, control and monitor your Smart Cooker, and access the Cooking Calculator for precise cooking parameters for every ingredient.

BUILT-IN SCALE: Use the precise built-in scale to easily measure ingredients and cook by weight, simplifying both prep and cleanup – No measuring cups needed. Four integrated smart sensors measure ingredients accurately and tell you exactly how much liquid is needed to cook meals to perfection.

AUTO PRESSURE RELEASE: Automatically releases steam at the end of pressure cooking for increased safety and convenience. Programmed with 3 pressure release methods: quick, pulse, and natural.

GUIDED COOKING: Guided Cooking recipes provide step-by-step video cooking instructions and enable you to send precise cooking parameters to your Smart Cooker for every step, no need to enter time and temp settings or set any timers. Plus, five additional recipes are added to the app each week.

COOKING PRESETS: 300+ presets are stored on the Smart Cooker and 1000+ presets are built into the Cooking Calculator in the CHEF iQ App. Simply input your ingredient and we'll provide exact cooking time and temp settings.

WIRELESS UPDATES: Receive wireless firmware updates on your Smart Cooker via the CHEF iQ App. You Smart Cooker will gain additional features and improve its cooking algorithms while sitting on your countertop.
This post contains affiliate links.