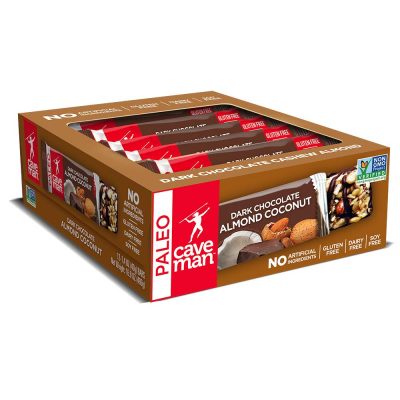 These things are so delicious! Right now, get Caveman Foods Paleo-Friendly Nutrition Bar Dark Chocolate Almond Coconut, 1.4 Ounce (12 Count Box) for only $12.59! Caramel Cashew Flavor is also discounted. At Caveman, our mission is to inspire healthier eating with incredible tasting Paleo Foods. By focusing on clean, simple ingredients inspired by the Paleo diet – our products stick to the food groups our bodies were designed to consume: Nuts, berries, seeds, fruits, vegetables, and lean meats. We skip grains, dairy, soy, peanuts and processed foods so our exceptional pure taste can shine through.*
SNACK BETTER: Decadent with dark chocolate, coconut, and almonds, this paleo-friendly bar satisfies sweet cravings while providing a nutritious and wholesome snack experience. Contains chia seeds and flax seeds. Certified non-GMO.

PALEO-FRIENDLY: These dark chocolate covered snack bars use high quality certified gluten free & paleo friendly ingredients. Made without peanuts, oats or grains. The non-GMO snack bar tastes great without the dry chalky tastes like other snack bars.

RAISE THE BAR: These nutritional snack bars are made without dairy & soy with certified gluten free options for all to enjoy. Stick them in a bag for an optimal on-the-go travel snack with delicious dark chocolate covered fruit, seeds, almonds & cashews.

PALEO SNACK PHILOSOPHY: Caveman Products delivers the best tasting nutrition bars that are made with nuts & seeds to help deliver a balance of healthy fats, carbs & protein that fit your gluten free, paleo, & vegan lifestyle.

NUTRIENT DENSE FOODS: We're inspired by our early ancestors, who thrived on simple, nutrient dense foods. That's why we make delicious snacks that make you feel stronger, sharper & more resilient.
Remember, Amazon prices can change at any time.
This post contains affiliate links.