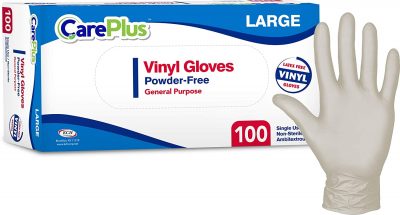 I was happy to find some disposable gloves in stock with a reasonable ship date! I think these will sell out pretty quickly. Right now, get the Care Plus [100 Count] Disposable Plastic Vinyl Clear Large Gloves for only $10.99. 
Properly removing gloves is critical to minimizing the risk of cross-contamination, so follow these simple steps to maintain the most sanitary operation possible. Grab the outside of one of the gloves near your wrist, being careful not to touch your skin. Peel it away from your body, turning the glove inside-out to trap potential contaminants. Hold this glove in the opposite hand and slide the ungloved fingers under the wrist of the glove you're still wearing. Peel the glove away from your body so the first glove is inside of the second. Discard the gloves and wash your hands thoroughly. Train your staff with this method and be assured that you're minimizing the risk of cross-contamination!
Safe Food Handling Depends On A Properly-gloved Staff. Made Of Thick Vinyl, These Gloves Are A Great Way To Keep Your Staff In Compliance With Health Code Regulations At All Times. Perfect For Everything From Food Handling And Preparation, To Janitorial And Housekeeping Applications, These Gloves Are Versatile And Convenient In Any Setting!

Thanks To Their Powder-free, Latex-free Design, These Gloves Are Perfect For Environments Where Latex And Other Allergens May Be A Concern. Flexible And Resilient, These Gloves Offer A Consistent Fit You Can Depend On! For Added Convenience, They Are Also Disposable So You Can Easily Throw Them Away After Each Use To Keep Your Work Environment Both Clean And Organized.

Providing The Right Size Gloves For Each Of Your Staff Members Is A Key Component To Safe Food Handling. Gloves That Are Too Large May Fall Off And Gloves That Are Too Small Are More Susceptible To Rips And Tears. With A Variety Of Sizes To Choose From, Care Plus Products Has Something For Everyone!

Designed For Delis, Sandwich Shops, Concession Stands, And Any Commercial Kitchen, With Their Ambidextrous Design, These Gloves Will Fit Either Hand For Fast, Efficient Gloving. The Perforated Box Allows For Easy And Sanitary One-at-a-time Glove Dispensing.

Perfect For Light-duty Tasks Ideal For Tasks That Require Constant Glove Changing Within Your Food Service Operation, These Gloves Are Perfect For Tossing Salads And Making Ready-to-order Sandwiches. The Powder-free Poly Material Is Easy To Slip On And Off And The Comfortable Fit Doesn't Get In The Way Of Your Tasks. They're Also 100% Latex-free.
Remember, Amazon prices can change at any time.
This post contains affiliate links.