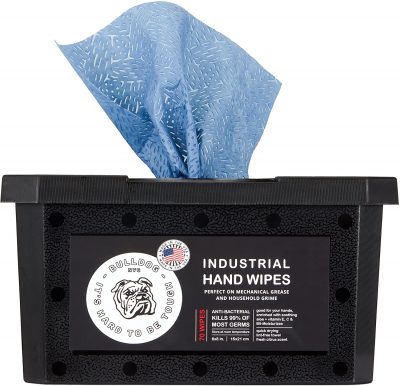 Move aside common wipes, and let the professionals work. Bulldog Industrial Hand Wipes are here to get the job done. Bulldog Wipes are tougher, stronger and more powerful than any other wipe out there! They're made to work harder- so you don't have to! Get the Bulldog Heavy-Duty Hand Wipes, Grease Wipes, Hand Cleaner Wipes, Cleaning Wipes, Paint Wipes, Industrial Cleaning Wipes, Waterless Hand Cleaner, Disinfecting Wipes 70 wipes for $19.99!
GET TOUGH ON DIRT AND STAINS: These all-purpose cleaning wipes are the strongest, most powerful way to CUT THROUGH dirt and grease and leave your surfaces sparkling clean!

HUNDREDS OF USES: Use Bulldog disinfecting wipes for those tough and sticky messes around your home! They are also great gym wipes, dog wipes, wheel cleaner, leather wipes, grease wipes and more!

TOUGH ON DIRT- SOFT ON YOUR SKIN: Infused with soothing Aloe and Vitamins E, C and B5- Bulldog antibacterial hand wipes will get the job done without irritating your skin!

REFRESHING CITRUS SCENT: These Anti-Bacterial wipes are made without harsh chemicals and therefore don't have a strong chemical odor! The pleasant lemony scent will ensure that not only will your surfaces (and hands!) be 100% clean- they will also smell amazing!

EASY PULL CONTAINER- The bulldog cleaning wipes container is specially designed to allow you to pull just one wipe at a time. No more annoying rope of wipes that need to be separated and fall back into the container, the bulldog wipes container does all the work for you!
Remember, Amazon prices can change at any time.
This post contains affiliate links.