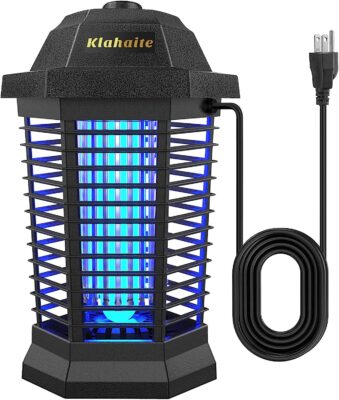 KLAHAITE Bug Zapper is designed with high voltage grid, It attracts flying insects and instantly electrocute them by the 4200V internal grid.
Flying insects such as mosquitos, gnats, moths and fruit flies become irritating as summer approaches, If you are looking out for a effective way to battle with the these flying insects, this powerful insect killer help you get rid of those unwanted pest. Get this Bug Zapper Outdoor, Mosquito Zapper Indoor, Fly Zapper, Fly Trap, Insect Trap for Garden Backyard Patio for only $33.99!
Effective Physical Bug zapper: Outdoor bug zapper uses blue-violet light attracts mosquitoes, gnats, aedes, midges, moths, flies, fruit flies, wasps and other flying insects, then the high-voltage grids will electrocute these insects immediately.

Eco-friendly and Safety: The bug zapper is EPA registered, safe for your family and pet. The designed of the protective housing can prevent people and pet from accidental contact. And electrocutes mosquitoes by physical way, So you don't have to put up with the smell of insecticides and attractants.

Wider Range: This highly effective fly zapper with a 4200V high-voltage grid, and the effective range is up to 2100 sq ft. Ideal choice for backyards, garden, garage, patios, balcony, workroom etc. Works better at night and in darker environments.

Easy to Use and Clean: You can hang insects trap on the tree or the porch of the house with a convenient ring, then plug-in 120V outlet and work. Built-in a removable tray in the bottom, just remove the tray and use the supplier brush to clean it.

Durable Mosquito Killer: This sturdy mosquito zapper is made of fireproof ABS material which could resistant to high temperature and oil, difficult to dissolve and waterproof. Ideal for outdoor and indoor use.
Remember, Amazon prices can change at any time.
This post contains affiliate links.