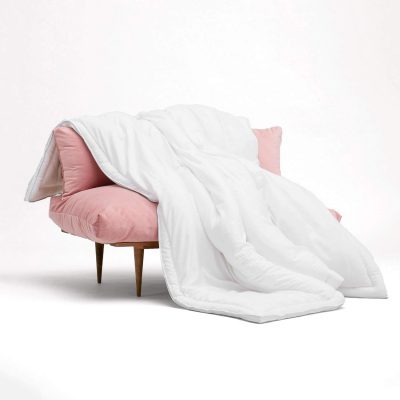 Looking for new linens? Today's deal is the perfect opportunity to get a beautiful new comforter. Get the Buffy Comforter – Cloud Queen Comforter – Eucalyptus Fabric – Hypoallergenic Bedding for only $112. The other sizes are also discounted today.
Meet the Cloud – The earth's softest comforter filled with cloud-like fiber, for year-round warmth and coziness. The Queen comforter dimensions are 90″ x 94″.

Super Soft – Covered in eucalyptus fabric that's naturally softer than cotton. The comforter does feel like sleeping under a pile of cotton candy. For extra protection, we recommend pairing with the Buffy Duvet Cover.

Extra Lofty – Filled with layers of gossamer fiber to give you that satisfying snuggled up feeling. The air-blown fill will make you feel like you're sleeping in the softest, fluffiest cloud.

Cruelty Free – Each comforter keeps 50 bottles out of landfills and protects 12 geese.

Earth-Friendly – Hypoallergenic and resistant to microbes, mites, and allergens. Let's make the world a more comfortable place, together.
This post contains affiliate links.