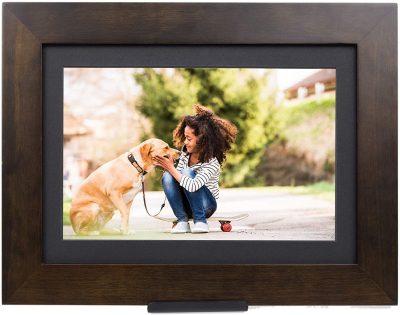 I've always wanted one of these! Today only, get the Brookstone PhotoShare Smart Digital Picture Frame, WiFi, HD, Family Photo Album Slideshow, Tabletop End Table, Home Décor, 10", Espresso for only $95.99. You'll be saving $38! The PhotoShare Friends and Family Smart Frame by Brookstone is simply the best way to enjoy your favorite photos with family and friends. With the free PhotoShare Frame app (available for iOS and Android), up to 50 photos at a time may be sent to up to or more PhotoShare Frames at once, making it a snap to share your memories with your entire network of family and friends. For added flexibility, photos may also be sent through email or from your linked Facebook account.
Share life as it happens. Send playground pics of the kids directly to Grandma's frame, send wedding photos to family members' Frames from across the country or send party photos to friends' frames from the party! it's fun, easy and a great way to keep your memories alive.
Instantly send photos from phone to frames in seconds with the free Photoshare App

Multiple photos may be sent to up to 10 Photoshare Frames at once

Photos can be sent directly to the Photoshare frame via email, from PC or via link with Facebook

Photos can be sent from google photos or other photo apps, making it fast, easy and fun to find and share your favorite pictures with friends and family

High definition touchscreen display
This post contains affiliate links.